TIME OF WONDER Specs

LOA---44' 10"
LWL---39' 0"
BEAM---13' 5"
DRAFT---6' 3"
BALLAST---18000 lbs.
SAIL AREA---1297 sq. ft.
DISPLACEMENT---45000 lbs.
DISPL/LENGTH RATIO---339
SA/DISPL RATIO---16.4 (4 lowers)
PRISMATIC COEFF---.56
CAPSIZE SCREENING FACTOR---1.51
TANKS---80 gals Fuel, 100 gals Water
TIME OF WONDER
A 45' Pinky Schooner for wood construction
Brewer / Wallstrom Design #89
This husky schooner is styled after the DOVE, a fishing schooner built in Nova Scotia, Canada in the 1800s. Changes from the original design include a finer hull, modified rudder and a double headsail rig with main topsail. Also, the fish hold has given way to more liveable and convenient accommodation, of course.
The layout accommodates 8 persons in 2 double and 4 single berths. An alternative arrangement fits in a sea berth and a single settee berth in place of the double berth formed by the table. The galley is quite complete with 3 burner stove and good counter space. The head is roomy and there is ample stowage throughout. High bulwarks, very wide side decks and a spacious foredeck provide a safe working platform.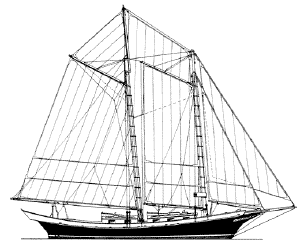 click drawing to see larger image
The first TIME OF WONDER was launched in 1975 and outfitted very spartanly with a minimum of winches and fancy gear. Wood shell blocks, deadeyes, spliced rigging, brains and muscle replaced most of the gadgets considered essential by so many modern yachtsmen. Still, she sails beautifully and moves along very nicely indeed. There is good sail area even for light air with the topsail, fisherman staysail and jumbo jib set.
Construction is of edge glued strip planking on bulkhead framing with marine ply decks. The hull was Vectra covered and the decks fibreglassed. She could, of course, be built with more traditional methods if preferred and plans for this are available. Most of the ballast (15,000 lbs) is carried inside the hull but the yacht has proven to be very stiff and able to carry sail in dusty going. Her very low Capsize Screening Factor indicates that she will be unusually safe in extreme conditions.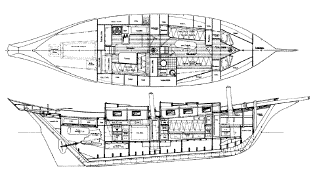 click drawing to see larger image
TIME OF WONDER is an unusual yacht by modern standards but she attracts favourable attention wherever she pokes her bowsprit. She will still be "in style" when many of the contemporary plastic horrors are simply laughed at as the ugly tublike creations that they truly are.
Study Plans: $120 US
Complete Plans: $1795 US
Study plans contain sufficient drawings to price out materials or obtain a professional bid; the cost of study plans is credited if complete plans are later ordered. Complete plans include rights to build one boat, plus reasonable consultation during construction.
---
---
Brewer Yacht Designs
1825 Evergreen Drive
Agassiz, BC
Canada VOM 1A3
Phone 604-796-3732 Fax 604-796-3738
brewer@island.net