SOPHIA CHRISTINA Specs

LOA---46' 1"
LWL---40' 0"
BEAM---13' 5"
DRAFT--- 6' 7"
BALLAST---15000 lbs.
SAIL AREA---1354 sq. ft.
DISPLACEMENT---48000 lbs.
DISPL/LENGTH RATIO---335
SA/DISPL RATIO---16.4
PRISMATIC COEFF---.551
CAPSIZE SCREENING FACTOR---1.48
TANKS: 100 gals fuel, 150 gals water
SOPHIA CHRISTINA
A 46' Schooner for wood construction
Brewer Design #130
SOPHIA CHRISTINA was styled after the lovely Boston pilot schooner LILLIE of the gay 90s, with her plumb stem and heavily raked transom. The pilot schooners often had to go out in very heavy weather to transfer pilots to ships arriving or leaving harbour so, of necessity, they had to be very able vessels. SOPHIA CHRISTINA follows this tradition and, indeed, has been approved by the US Coast Guard for passenger carrying for both long term charter as well as day cruises.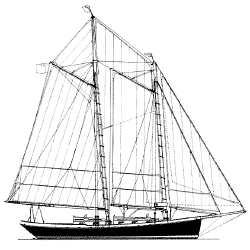 click drawing to see larger image
Despite her traditional appearance, the yacht's accommodations are right up to modern standards and provide comfort, privacy and convenience for extended cruises. There are 4 permanent berths, plus an extension double berth fitted in 3 separate cabins, the galley is very complete and workable, and there is generous stowage throughout. On deck the cockpit is spacious and the decks are unusually wide to form safe working platforms.
Construction is traditional with carvel planking over steam bent frames, fully ceiled inside, with laid pine decks. Of course, other methods of wood construction are quite feasible as well; strip planked, laminated, etc. as preferred.
The rig offers generous sail area with up to 1750 sq. ft of area when the light sails are set, so she will not be a slouch in light weather. In stronger breezes her long waterline and powerful hull combine to assure good speeds under her 4 lowers. With a half angle of entrance of only 19 degrees she is not slowed greatly by choppy seas either. The schooner rig is noted for speed on a reach and SOPHIA CHRISTINA is an exciting vessel to sail in those conditions; indeed she has won schooner races in the Pacific Northwest.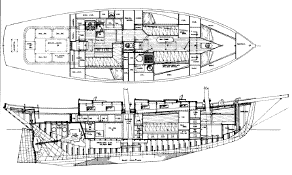 click drawing to see larger image
There is no question but that SOPHIA is a yacht that attracts attention wherever she sails. If you are a schooner enthusiast, this is one design that will take you anywhere you want to go, in safety and comfort, and bring you home again.
Study Plans: $120 US
Complete Plans: $1795 US
Study plans contain sufficient drawings to price out materials or obtain a professional bid; the cost of study plans is credited if complete plans are later ordered. Complete plans include rights to build one boat, plus reasonable consultation during construction.
---
---
Brewer Yacht Designs
1825 Evergreen Drive
Agassiz, BC
Canada VOM 1A3
Phone 604-796-3732 Fax 604-796-3738
brewer@island.net