TERN Specs

LOA---31' 10"
LWL---26' 3"
BEAM---10' 1"
DRAFT---4' 7"
BALLAST---4,500 lbs.
SAIL AREA---501 sq. ft.
DISPLACEMENT---13,250 lbs.
DISPL/LENGTH RATIO---327
SA/DISPL RATIO---14.3
PRISMATIC COEFF---.58
CAPSIZE SCREENING FACTOR---1.7
TANKS---40 gals fuel, 40 gals water
TERN
A 32' Auxiliary Ketch for wood construction
Brewer Design #25
TERN is a comfortable ketch designed for extensive coastal and offshore, blue water cruising. Indeed, one yacht of this design, beautifully built in New Orleans, has cruised to the Mediterranean and Aegean Sea, and return, with no problems.
The single chine hull can be plywood or carvel planked, as preferred, and her construction is ideally suited to the competent amateur builder or small shop. Scantlings are on the heavy side so the boat is one that will stand up to rough going with ease and provide years of cruising pleasure with normal maintenance.
Two different accommodation plans are available. Each offers 4-5 berths, a complete galley, large chart table and enclosed head. There is very generous stowage space, of course, to suit her purpose as a long distance cruiser.
The chine hull, generous beam and deep outside ballast combine to assure a stiff and weatherly vessel. The versatile ketch rig is ideal for the single hander or the short handed sailor as it enables canvas to be reduced in a blow to suit any conditions and still retain a balanced helm. The spars are hollow spruce and rigging is galvanized or stainless steel, and dacron.
Auxiliary power can be any small diesel engine of 20-30 hp and will move her along smartly at cruising speeds up to 6-1/2 knots. The large 40 gallon fuel tank assures a wide cruising radius as well.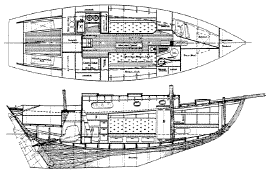 click drawing to see larger image
TERN is very definitely a vessel for the confirmed cruising skipper. She is a yacht that combines seaworthiness, sailing pleasure and cruising comfort in a rugged and well proven package, one that will take you wherever you want to sail in safety, and bring you home again.
Study Plans: $50 US
Complete Plans: $395 US
Study plans contain sufficient drawings to price out materials or obtain a professional bid; the cost of study plans is credited if complete plans are later ordered. Complete plans include rights to build one boat, plus reasonable consultation during construction.
---
---
Brewer Yacht Designs
1825 Evergreen Drive
Agassiz, BC
Canada VOM 1A3
Phone 604-796-3732 Fax 604-796-3738
brewer@island.net