CAPE CARIB Specs

LOA---32' 4"
LWL---23' 3"
BEAM---9' 3"
DRAFT---4' 8"
BALLAST--- 3500 lbs.
SAIL AREA---511 sq. ft.
DISPLACEMENT---9800 lbs.
DISPL/LENGTH RATIO---348
SA/DISPL RATIO---17.9
CAPSIZE SCREENING FACTOR---1.73
TANKS--- 40 gals. Fuel, 40 gals. Water
CAPE CARIB
A 32' full keel ketch for wood construction
Brewer / Wallstrom Design #47
The CARIB was designed for an owner who wanted a fast comfortable auxiliary yacht with accommodations for four. As the first boat was to be owner built, the construction was developed with the amateur builder in mind.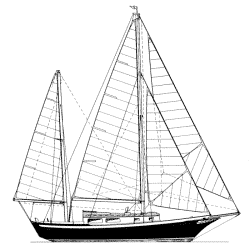 click drawing to see larger image
CARIB is a husky cruiser designed for comfort, operating economy and seaworthiness. She was put into fibreglass production in the 1970s and, a few years ago, one of these yachts survived a week long monsoon gale in the China Sea while on a passage from Hong Kong to England. Both boat and crew survived the terrific storm and went on to complete the voyage.
Construction is edge nailed strip planking on bulkhead framing, fibreglass covered, if desired. Deck and cabin roof are of plywood, fibreglass or Vectra covered. A small boatyard, or a competent amateur craftsman, will encounter no difficulties in building her.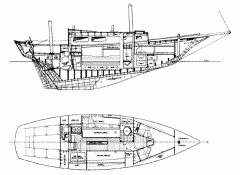 click drawing to see larger image
The CARIBís accommodations include three permanent berths, plus two settee berths, a compact galley and a workable head. Stowage is quite good with many drawers and lockers.
A variety of small diesel engines in the 12-20 hp range will fit easily and her fuel capacity of two 24 gal. tanks provides a very wide cruising range.
Numerous vessels have been commercially built to the CARIB design including wooden yachts in Poland and fibreglass CARIBs in Hong Kong. We have had many kind comments from the owners but the best of all was from the skipper who sent us the article about the China Sea storm. Thatís the type of story that really makes a yacht designerĎs day!
Study Plans: $60 US
Complete Plans: $495 US
Study plans contain sufficient drawings to price out materials or obtain a professional bid; the cost of study plans is credited if complete plans are later ordered. Complete plans include rights to build one boat, plus reasonable consultation during construction.
---
---
Brewer Yacht Designs
1825 Evergreen Drive
Agassiz, BC
Canada VOM 1A3
Phone 604-796-3732 Fax 604-796-3738
brewer@island.net