ENTERPRISE Specs

LOA---53' 11"
LWL---47' 0"
BEAM---16' 3"
DRAFT---6' 0"/10' 0"
BALLAST--- lbs.
SAIL AREA---1523 sq. ft.
DISPLACEMENT---70000 lbs.
DISPL/LENGTH RATIO---300
SA/DISPL RATIO---14.4
CAPSIZE SCREENING FACTOR---1.58
TANKS--- 500 gals. Fuel, 425 gals. Water
ENTERPRISE
A 53' 11" ocean going pilot house ketch for wood construction
Brewer / Wallstrom Design #60
ENTERPRISE is an ocean going auxiliary yacht designed for extended voyaging in comfort. The design was created for a Captain in the US Navy and is based on Ted Brewer's very successful MYSTIC (a welded aluminum yacht of similar size) but the displacement and sail area of ENTERPRISE have been increased to compensate for her wood construction.
While the construction is of wood, she is sturdily built to solid scantling rules and takes advantage of modern triple diagonal planking to reduce maintenance, eliminate caulking and ensure more than adequate strength. With normal care a wood hull of this type should endure for 50 years or more.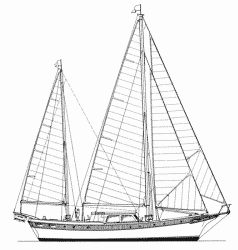 click drawing to see larger image
Rig and spars are of stainless steel and aluminum for strength and lightness. The tall and efficient rig spreads ample sail area for fast performance under all conditions and, indeed, MYSTIC placed second in Class B in the 1969 Trans-PAC race. Though a cruiser, and a comfortable one, ENTERPRISE will prove to be a good performer.
Auxiliary power is diesel, of course and engines of 80-120 continuous shaft HP may be fitted (depending upon owner's requirements) for good cruising speeds along with economy of operation. Five hundred gallon fuel tanks assure a wide cruising range.
The arrangement provides six berths in two, or three, separate cabins. A fourth two berth crew or guest cabin can be fitted in lieu of the ship's office if desired. In addition to the double berth the great cabin also provides two sea-berths since we feel that an athwartship double berth, while extremely comfortable in port, is not always the best answer in rough weather at sea. The great cabin plus a large saloon/pilot house provides generous seating space while the wide and uncluttered decks are ideal lounging areas for the off-watch.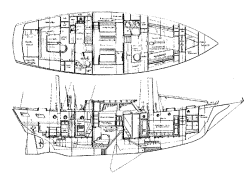 click drawing to see larger image
Indeed, her layout is ideal for chartering as it can provide for 4-6 guests forward with the owner/skipper (and the galley) aft.
ENTERPRISE is, in sum, a powerful and comfortable distance cruiser equally suited to island hopping in the Caribbean, a long blue water passage, or a circumnavigation if you are so inclined.
Study Plans: $110 US
Complete Plans: $2995 US
Study plans contain sufficient drawings to price out materials or obtain a professional bid; the cost of study plans is credited if complete plans are later ordered. Complete plans include rights to build one boat, plus reasonable consultation during construction.
---
---
Brewer Yacht Designs
1825 Evergreen Drive
Agassiz, BC
Canada VOM 1A3
Phone 604-796-3732 Fax 604-796-3738
brewer@island.net