PROSPECTOR Specs

LOA---33' 1"
LWL---28' 3"
BEAM---10' 7"
DRAFT---5' 6"
BALLAST---4750 lbs.
SAIL AREA---613 sq. ft.
DISPLACEMENT---13900 lbs.
DISPL/LENGTH RATIO---275.2
SA/DISPL RATIO---17.0
PRISMATIC COEFF---.55
CAPSIZE SCREENING FACTOR---1.76
TANKS---40 gals. Fuel, 47 gals. Water
PROSPECTOR
A 33' Strip planked Cutter
Brewer Design #271
PROSPECTOR was designed for a gentleman who wanted a wood cutter of modern construction but one with the sweeping sheer, harmonious trunk cabin, deep toe rails and other features of 1950s styling. With this, he still preferred a fin/skeg rudder underbody for its advantages of reduced wetted area, improved performance and manoeuvrability. Still, PROSPECTOR's classic 1950s style will never be outdated and she'll receive approving glances from knowledgeable sailors in any harbour she enters.
click drawing to see larger image
Construction is of glued and edge nailed strip planking, with synthetic covering set in epoxy resin. The keel and stem are laminated fir and the decks are marine ply. Ballast is a lead casting strongly fastened with silicon bronze bolts. There is nothing in PROSPECTOR's construction that will daunt a competent woodworker. Indeed, we have had a small schooner of similar construction beautifully built by a dentist, including pouring the ballast keel in his back yard, with no major problems whatever. (Well, his wife did divorce him but we can't blame that on the boat!)
The rig is a simple single spreader rig and very strongly stayed. The intermediate backstay can be taken aft and used as a runner to further brace the mast in gale conditions. Indeed, the yacht is quite up to a circumnavigation if that is your goal. Her 613 square feet of sail is ample to move PROSPECTOR thru the calms and a diesel of 20-30 hp will keep her going when the breeze dies completely.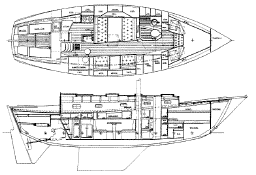 click drawing to see larger image
The accommodations are straightforward, with a very complete galley aft, chart table opposite, comfortable saloon, roomy head with shower and a good sized owners' cabin forward. For long range voyaging, the port side dinette can be replaced with a standard settee and pilot berth outboard of it.
In sum, PROSPECTOR is a small yacht that can take a venturesome crew anywhere on the globe that they want to go, in safety and comfort.
Study Plans: $65 US
Complete Plans: $750 US
Study plans contain sufficient drawings to price out materials or obtain a professional bid; the cost of study plans is credited if complete plans are later ordered. Complete plans include rights to build one boat, plus reasonable consultation during construction.
---
---
Brewer Yacht Designs
1825 Evergreen Drive
Agassiz, BC
Canada VOM 1A3
Phone 604-796-3732 Fax 604-796-3738
brewer@island.net