MORGANE LE FAY Specs

LOA---33' 9"
LWL---28' 10"
BEAM---11' 2"
DRAFT---4' 11"
BALLAST---5500 lbs.
SAIL AREA---618 sq. ft.
DISPLACEMENT---14225 lbs.
DISPL/LENGTH RATIO---265
SA/DISPL RATIO---16.8
PRISMATIC COEFF---.552
CAPSIZE SCREENING FACTOR---1.84
TANKS---30 gals. Fuel, 80 gals. Water
MORGANE LE FAY
A 34' Auxiliary Cutter for wood construction
Brewer Design #156 Modification
The original of this design is a fibreglass one-off but a Virginia client saw the drawings and wanted to build her in wood. His boat, the first of the wood versions, is well along and a fine piece of yacht construction.
The modified design has new computer faired hull lines and a NACA 65-010 fin. The hull sections have moderately firm bilges and good deadrise for ease of motion in a seaway while the ample skeg assures good directional stability as well as protection for the shaft and propeller.
Construction is of a laminated backbone with strip planking with a layer of laminated planking over the strip if desired.
Framing consists of the bulkheads and all the major joiner work, and is fibreglass taped to the hull. The ballast fin is a hollow steel fabrication with lead ballast set inside in resin or concrete and is fastened to the keel with galvanized iron or epoxy coated stainless steel bolts. The cabin sides, deck and roof are of plywood with laminated beams, as preferred.
MORGANE's long waterline and generous sail area offer good all around performance and the rig is strongly stayed with double spreaders and intermediate backstays. For severe weather, or to give maximum forestay tension on a long windward slog, the latter can be set up as runners. Other seagoing aspects of the design include the double head rig, boom gallows, raft locker, deep bulwarks and the protective windshield which will assure a snug cockpit in dusty going.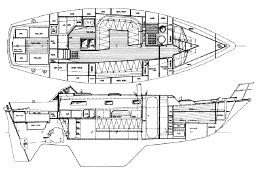 click drawing to see larger image
The interior was arranged to provide a spacious galley and saloon area and she will give a feeling of being considerably larger than her 34 feet. There is generous stowage throughout, of course, as is essential on a vessel that will be used for extended voyaging.
All in all, MORGANE LE FEY should prove to be a solid, good performing cruiser, well suited to coastal waters or trans-ocean voyaging.
Study Plans: $75 US
Complete Plans: $895 US
Study plans contain sufficient drawings to price out materials or obtain a professional bid; the cost of study plans is credited if complete plans are later ordered. Complete plans include rights to build one boat, plus reasonable consultation during construction.
---
---
Brewer Yacht Designs
1825 Evergreen Drive
Agassiz, BC
Canada VOM 1A3
Phone 604-796-3732 Fax 604-796-3738
brewer@island.net