PHIALLE Specs

LOA---20' 0"
LWL---17' 3"
BEAM---6' 9"
DRAFT---2' 2"/ 6' 0"
BALLAST---600 lbs.
SAIL AREA---198 sq. ft.
DISPLACEMENT---2100 lbs.
DISPL/LENGTH RATIO---183
SA/DISPL RATIO---19.3
PRISMATIC COEFF---.526
CAPSIZE SCREENING FACTOR---2.1
TANKS--- to suit owner
PHIALLE (Phialle means "a small drinking vessel")
A 20' Centerboard Sloop for wood construction
Brewer Design #61-4
PHIALLE was designed as a small, trailerable cruiser for the amateur builder. She features a roomy cockpit for daysailing and accommodations suitable for a couple for short cruises.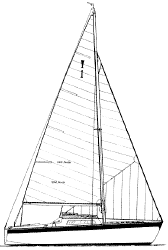 click drawing to see larger image
The accommodations offer three berths, a small galley flat, ample stowage for sails and gear and a watertight, self bailing cockpit. Auxiliary power is a 3-5 hp outboard mounted on the transom if desired.
Construction is of 3/8" marine plywood hull and decks on bulkhead framing, fastened with resorcinol glue and Anchorfast nails. The simple ballast keel consists of two steel plates with space between for the steel centerboard, thus avoiding the need for an expensive casting.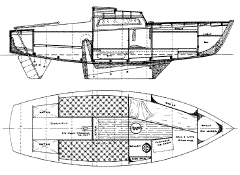 click drawing to see larger image
Drawings for wood spars are provided but any maker of aluminum masts can provide a suitable rig if preferred. Sail area is generous and the PHIALLE will slip along nicely in light air.
This designer, in his younger days, cruised many hundreds of miles in small boats not unlike PHIALLE. A young couple can get a great deal of pleasure out of a little yacht of this type, and not break the bank building her.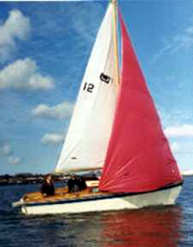 Study Plans: $35 US
Complete Plans: $135 US
Study plans contain sufficient drawings to price out materials or obtain a professional bid; the cost of study plans is credited if complete plans are later ordered. Complete plans include rights to build one boat, plus reasonable consultation during construction.
---
---
Brewer Yacht Designs
1825 Evergreen Drive
Agassiz, BC
Canada VOM 1A3
Phone 604-796-3732 Fax 604-796-3738
brewer@island.net