Cape Cod Cat Specs

LOA---21' 7"
LWL---20' 0"
BEAM---10' 0"
DRAFT---2' 3"
SAIL AREA---374 sq. ft.
DISPLACEMENT---5850 lbs.
DISPL/LENGTH RATIO---326.5
SA/DISPL RATIO---18.4
PRISMATIC COEFF---.558
CAPSIZE SCREENING FACTOR---2.2
TANKS--20 gals fuel
CAPE COD CAT
A proven east coast 22' catboat design for wood construction
Brewer Design #42
This design is a chine version of the popular Cape Cod catboat and was prepared as a simple-to-build version of this famous type. Many have been built by competent amateur builders and one, at least, was professionally built to very high standards by Sam Devlin for a well-known TV star.
Like all catboats, the CAPE COD provides comfortable accommodations for her length. She features 2 berths, a small galley and head inside the cabin and the spacious cockpit can easily accommodate 2 more people under a boom tent for family cruising.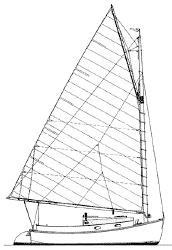 click drawing to see larger image
For picnicking, the CAPE COD can seat a daysailing party of 6-8 people with ease.
Construction is on the husky side with commercial 2 x 4 framing and heavy plywood planking for strength, durability and simplicity. She can also be strip planked if that method is preferred. There is nothing in the design that cannot be handled by a good wood worker.
Power is by a small inboard gas or diesel engine of 5-10 hp with a 20 gallon fuel tank. Several boats have used outboard power successfully as well and a 10 hp motor hung on a transom mount will move her along very nicely indeed.
Tremendous stability is inherent in the beamy catboat hull and this is enhanced by her vee bottom form. With a sail area/displacement ratio of over 18 the CAPE COD will move along nicely in any weather. All halyards lead to the cockpit so there is no need to go forward to handle sail, and there are deep reefs for heavy weather. The boatman requiring an able, comfortable and simple-to-build cruising boat would do well to give the CAPE COD some serious consideration.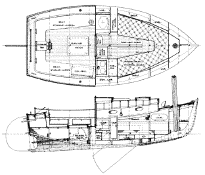 click drawing to see larger image
These boats often sailed many miles offshore when handled by professional fishermen and one happy owner of the CAPE COD reported: "I sailed to the Dry Tortugas at the end of May. The round trip was approximately 500 miles. The boat sails fine and I am well satisfied. The seas ran about 10 feet at one part of the trip but the boat offered a feeling of security at all times. Thank you for the accommodating assistance you have offered, and a fine boat." -- T.W.L. - Clearwater, Florida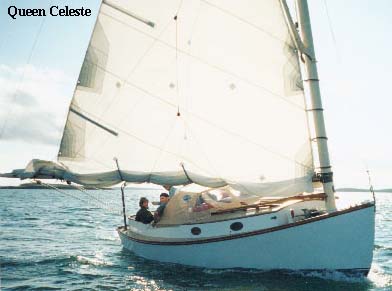 "I have a 'Brewer 22" and have been sailing her for about 10 years. I become more and more delighted with her the more experience I get, although it was a bit scary at first. She is fast, comfortable, very seaworthy and we do a lot of cruising (2 adults) and live quite luxuriously for a week at a time (a dodger and cockpit tent are mandatory for these trips around Nova Scotia.) She is surprisingly quick in light airs and has plenty of momentum once she gets going (mine is 3 tons). She is very fast reaching and running and can be made very powerful going up wind, although she doesn't point well (I don't think any of the gaff cats really do) so you have to learn the upwind techniques" -- G. S. - owner of Queen Celeste, Nova Scotia


Study Plans: $35 US

Complete Plans: $195 US

Study plans contain sufficient drawings to price out materials or obtain a professional bid; the cost of study plans is credited if complete plans are later ordered. Complete plans include rights to build one boat, plus reasonable consultation during construction.
---
---
Brewer Yacht Designs
1825 Evergreen Drive
Agassiz, BC
Canada VOM 1A3
Phone 604-796-3732 Fax 604-796-3738
brewer@island.net