G.T. WHITE Specs

LOA---34' 3"
LWL---27' 6"
BEAM---10' 6"
DRAFT--- 4' 6"
BALLAST---6000 lbs.
SAIL AREA---525 sq. ft.
DISPLACEMENT---18450 lbs.
DISPL/LENGTH RATIO---396
SA/DISPL RATIO---12.0
PRISMATIC COEFF---.565
CAPSIZE SCREENING FACTOR---1.12
TANKS---120 gals. Fuel, 160 gals. Water
G.T. WHITE
A 34' Motorsailor for wood construction
Brewer Design #59-1
The G.T. WHITE is definitely a motorsailer, with the accent on a powerful diesel of 50-70 hp to move her through the calms. She was designed primarily for coastal cruising but, nevertheless, she is able enough that one of these yachts, built in Hong Kong, sailed to the west coast with no problem. The husky, full keel hull assures an easy motion in a seaway along with good directional stability.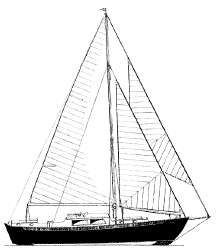 click drawing to see larger image
Construction is of carvel planking on bent or laminated framing, with teak or plywood decks. Originally, white oak and mahogany were called for in the hull but, today, it would not be out of the question to use clear Douglas fir.
The heavy iron ballast shoe protects against grounding and provides tremendous longitudinal strength to the hull as well as adding the necessary stability for sailing.
Plans show hollow spruce spars with s.s. or galvanized iron fittings but, of course, aluminum spars can be fitted if preferred. Both sloop and cutter rigs are shown.
Study Plans: $60 US
Complete Plans: $495 US
Study plans contain sufficient drawings to price out materials or obtain a professional bid; the cost of study plans is credited if complete plans are later ordered. Complete plans include rights to build one boat, plus reasonable consultation during construction.
---
---
Brewer Yacht Designs
1825 Evergreen Drive
Agassiz, BC
Canada VOM 1A3
Phone 604-796-3732 Fax 604-796-3738
brewer@island.net