MB & S 35 Specs

LOA---35' 4"or 36' 8"
LWL---29' 4"
BEAM---11' 2"
DRAFT---5' 6"
BALLAST--- 6250 lbs.
SAIL AREA---645 sq. ft.
DISPLACEMENT---17640 lbs.
DISPL/LENGTH RATIO---312
SA/DISPL RATIO---15.2
PRISMATIC COEFF---.55
CAPSIZE SCREENING FACTOR---1.72
TANKS--- 30 gals. Fuel, 70 gals. Water
MB & S 35
A 35' to 37' full keel cutter for wood construction
Brewer / Wallstrom Design #77
The MB&S 35 was designed for Motor Boating and Sailing magazine in order to provide the amateur craftsman with a modern, good performing cutter suited to long range, blue water voyaging. Construction is of strip planking on bulkhead framing with fibreglass covered plywood decks. Both trunk cabin and flush deck models are offered, the latter being 16" longer due to its higher freeboard. One of the flush deck models, built by Ron Gray of Vancouver, B.C., is one of the finest amateur built yachts we have ever seen and has voyaged extensively from the Pacific northwest to the islands of the Mediterranean.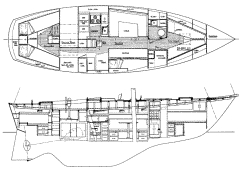 click drawing to see larger image
The layout accommodates 4-6 crew in three separate cabins but the MB&S 35 is really intended as a live-aboard, long range yacht for a couple, with room for occasional guests. Two couples could live aboard for reasonable periods as her large galley, separate nav area, good stowage and general privacy are rarely found on yachts of this size.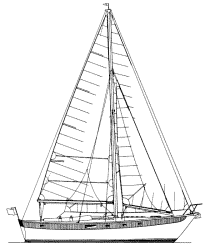 click drawing to see larger image
The all inboard cutter rig is easily handled and readily shortened down to a snug, inboard rig in a blow. The mast is keel stepped for strength and strongly stayed with double lowers and running backstays. The sail area is moderate but ample to move her along nicely in all but the lightest of breezes.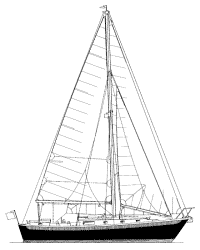 click drawing to see larger image
The MB&S 35 is a yacht intended to go to sea for long periods, and Ron Gray has proven this by taking his 35 to Europe, the Caribbean and return. She is a solid, seaworthy design that will take you around the world in comfort and bring you back safely.
Study Plans: $75 US
Complete Plans: $695 US
Study plans contain sufficient drawings to price out materials or obtain a professional bid; the cost of study plans is credited if complete plans are later ordered. Complete plans include rights to build one boat, plus reasonable consultation during construction.
---
---
Brewer Yacht Designs
1825 Evergreen Drive
Agassiz, BC
Canada VOM 1A3
Phone 604-796-3732 Fax 604-796-3738
brewer@island.net