AMEE Specs

LOA---37' 5"
LWL---31' 6"
BEAM---11' 4"
DRAFT---4' 2"/ 8' 0"
BALLAST---6250 lbs.
SAIL AREA---700 sq. ft.
DISPLACEMENT---15000 lbs.
DISPL/LENGTH RATIO---214
SA/DISPL RATIO---18.4
PRISMATIC COEFF---.531
CAPSIZE SCREENING FACTOR---1.84
TANKS---40 gals. Fuel, 60 gals. Water
AMEE
A 37' Auxiliary Centerboard Ketch for wood construction
Brewer / Wallstrom Design #38
AMEE was designed for a client who required a fast, shoal draft yacht suitable for cruising and club racing. The hull sections are very powerful with hard bilges and flaring topsides, providing excellent sail carrying power and reserve stability. The long waterline assures high potential speeds and the versatile ketch rig spreads ample sail area for all conditions.
Construction is of strip planking on bulkhead framing with fibreglass covered plywood decks and cabin.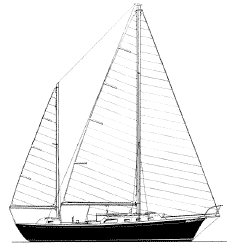 click drawing to see larger image
This guarantees a strong, tight hull with minimum maintenance and is a system well within the capability of a competent amateur builder.
The center cockpit layout is designed to sleep 6 in three separate cabins for privacy and comfort. There is a complete galley with large icebox, a spacious head and generous stowage throughout the vessel.
Spars are aluminum and the deck stepped main is supported by a strong double spreader rig. Sail area is generous but, in light airs, a 300 sq. ft. mizzen staysail is easily set and will help to keep her moving at a good speed.
Auxiliary power is by a diesel of 18-30 bhp.
This is adequate to propel the slippery hull through the calms at a fine clip and, with a 40 gal. fuel capacity, she will have a long range under power.
AMEE is a fast coastal cruiser, well suited to Florida and the Bahamas with her shoal draft. She will give the discriminating yachtsman all the performance and comfort he can wish for.
Study Plans: $75 US
Complete Plans: $895 US
Study plans contain sufficient drawings to price out materials or obtain a professional bid; the cost of study plans is credited if complete plans are later ordered. Complete plans include rights to build one boat, plus reasonable consultation during construction.
---
---
Brewer Yacht Designs
1825 Evergreen Drive
Agassiz, BC
Canada VOM 1A3
Phone 604-796-3732 Fax 604-796-3738
brewer@island.net