INGENUE Specs

LOA---32' 7"
LWL---27' 0"
BEAM---9' 7"
DRAFT---5' 5"
BALLAST---4500 lbs.
SAIL AREA---645 sq. ft.
DISPLACEMENT---13600 lbs.
DISPL/LENGTH RATIO---308.5
SA/DISPL RATIO---18.1
PRISMATIC COEFF---.533
CAPSIZE SCREENING FACTOR---1.6
TANKS---15 gals. Fuel, 35 gals. Water
INGENUE
A 33' Auxiliary Schooner for wood construction
Brewer Design #62-2
INGENUE was designed as a fast schooner for cruising and racing under the CCA handicap rule. Her accommodations provide 4 permanent berths, a good chart table and a compact but workable galley. There is ample stowage space throughout for extended voyaging.
Construction is very straight forward with glued strip planking on bulkhead framing.
Fibreglass or other synthetic cloth covering is optional. Although the original INGENUE had an oak backbone we would recommend fir or mahogany today for ease of gluing. Plywood is used for decks and bulkheads, and fastenings are bronze.
Firm bilges, deep draft and a good ballast ratio ensure a stiff and able boat that can keep going in heavy weather.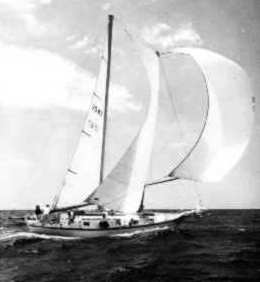 Her Capsize Screening Factor, a very low 1.6, also adds confidence in her ability in extreme conditions.
INGENUE's schooner rig is easily handled for short handed cruising and her original owner reported that she would make 4 knots to windward in heavy weather with only the foresail set. Still, she spreads 900 sq. ft. of canvas on a reach when racing and has an envious string of victories.
Auxiliary power is by a 12-18 hp. diesel and will push the easily driven, long waterline hull at a good speed, even against head winds and seas.
Excerpts from her racing record:
2nd of 93 in class, 1966 Chicago-Mackinac Race
1st to finish and 1st overall, 1966 Pensacola Race (300 miles)
1st in class, 4th in fleet, (127 boats), 1967 Tri-State race
1st overall, 2nd to finish, 1968 St. Pete-Naples Race
1st in class, 2nd in fleet, 1969 St. Pete-Mexico Race (456 miles)
1st in class, 1st in fleet, 1981 Long Island Sound Schooner Race
Note: The drawings also show a version with extended stern and clipper bow, giving a LOA of 34'11". A cutter rig is another option.
Study Plans: $60 US
Complete Plans: $495 US
Study plans contain sufficient drawings to price out materials or obtain a professional bid; the cost of study plans is credited if complete plans are later ordered. Complete plans include rights to build one boat, plus reasonable consultation during construction.
---
---
Brewer Yacht Designs
1825 Evergreen Drive
Agassiz, BC
Canada VOM 1A3
Phone 604-796-3732 Fax 604-796-3738
brewer@island.net