GRAND BANKS 28 Specs

LOA---28' 7'
LWL---24' 0"
BEAM---8' 6"
DRAFT---4' 6"
SAIL AREA---440 sq. ft
DISPLACEMENT---6000 lbs.
BALLAST---1750 lbs. Iron outside, 400 lbs. inside
DISPL/LENGTH RATIO---194
SA/DISPL RATIO---21.3
PRISMATIC COEFF---.556
CAPSIZE SAFETY FACTOR---1.87
GRAND BANKS 28
A 28'7" auxiliary cruiser for wood construction
Brewer Design #61-3
This salty little hooker is available as gaff sloop, gaff ketch, gaff schooner or Bermudan ketch, a rig to suit almost every taste! All rigs are designed to have the same center of effort so as to balance well under sail.
Construction is simple but sturdy, with 3/4" plywood bottom planking and 3/4" strip topside planking on sawn white oak or fir frames.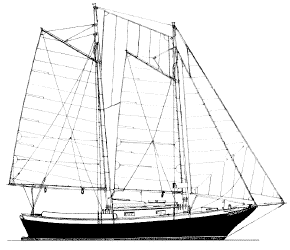 click drawing to see larger image
Decks are plywood or laid white pine. The cabin house is plywood or white pine with mahogany trim.
Cruising accommodations are provided for 4 persons in 2 separate cabins, with an enclosed head, good galley facilities, and generous stowage.
Cabin headroom is 5'6". The large self bailing cockpit is perfect for comfortable day sailing.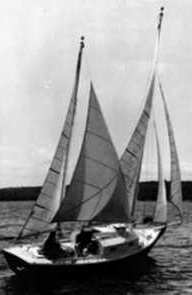 Power is by a small gas or diesel engine of 10-18 hp and will provide good cruising speeds along with sufficient push to buck the seas.
Spars are solid spruce or pine with galvanized iron or s.s. rigging. The working canvas is quite generous in all the versions and will move her along very nicely even in light airs while deep reefs are fitted for heavier going in dusty weather. Both the ketch and schooner rigs will balance well under a wide variety of reduce rig combinations and are to be recommended where extensive coastal cruising is planned.
The modified dory hull assures seaworthiness and the ability to take weather in her stride. One owner of a Bermudan ketch from Nova Scotia, Canada reported that his GRAND BANKS 28 was extremely dry on deck even in the roughest of seas.
All in all, the GRAND BANKS 28 is a boat that will appeal to the cruising man who requires a safe, economical and sensible auxiliary, and one that will catch the eye in every harbour she sails into.
Study Plans: $45 US
Complete Plans: $295 US
Study plans contain sufficient drawings to price out materials or obtain a professional bid; the cost of study plans is credited if complete plans are later ordered. Complete plans include rights to build one boat, plus reasonable consultation during construction.
---
---
Brewer Yacht Designs
1825 Evergreen Drive
Agassiz, BC
Canada VOM 1A3
Phone 604-796-3732 Fax 604-796-3738
brewer@island.net