GRAND BANKS 22 Specs

LOA---22' 0"
LWL---19' 2"
BEAM---7' 3"
DRAFT---3' 0"
SAIL AREA---263 sq. ft.
BALLAST---900 lbs. outside, 200 lbs. inside
DISPLACEMENT---2850 lbs.
DISPL/LENGTH RATIO---181
SA/DISPL RATIO---20.9
CAPSIZE SCREENING FACTOR---2.05
GRAND BANKS 22
A 22' Dory Ketch for wood construction
Brewer Design #63-4
The GRAND BANKS 22 is a husky cruising boat based on a modified dory hull. She was designed for the owner who wants an attractive small auxiliary cruiser with an easily handled rig and a large daysailing cockpit.
The dory is a simple hull to build yet combines seaworthiness and sailing performance in a boat without the boxy appearance of many plywood craft. The construction is of plywood or seam batten planking, epoxy or resorcinol glued and nail fastened to bulkhead framing. It is strong, light and durable, and an ideal method for the amateur woodworker or the small boat shop.
Seaworthiness and reserve stability are assured by the well flared topsides and outside ballast keel. The GRAND BANKS 22 is self-righting if knocked down in a squall and the ketch rig can be reefed to handle a wide variety of wind and sea conditions. The rig is strong and easily handled, spreading generous sail area for light airs. Spars are spruce or pine and the rigging is of stainless steel or galvanized iron, and dacron.
Auxiliary power is by a 3-5 hp. outboard motor in an enclosed well just abaft the cockpit. This eliminates the need for unsightly motor brackets and provides good power for calm days at a modest cost.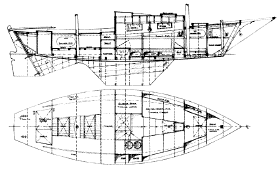 click drawing to see larger image
The accommodations have good sitting headroom and offer 3 berths, galley, w.c. and ample stowage space for vacation cruises.
Several dozen of these little ketches have been built and have proven their speed and ability in all weathers, from calms to 40 knot gale winds. At least one of the boats has made the passage to Alaska and return!
Study Plans: $35 US
Complete Plans: $195 US
Study plans contain sufficient drawings to price out materials or obtain a professional bid; the cost of study plans is credited if complete plans are later ordered. Complete plans include rights to build one boat, plus reasonable consultation during construction.
---
---
Brewer Yacht Designs
1825 Evergreen Drive
Agassiz, BC
Canada VOM 1A3
Phone 604-796-3732 Fax 604-796-3738
brewer@island.net