FRIENDSHIP Specs

LOA---38' 9"
LWL---29' 6"
BEAM---11' 10"
DRAFT---5' 9"
BALLAST---6000 lbs.
SAIL AREA---939 sq. ft.
DISPLACEMENT---19850 lbs.
DISPL/LENGTH RATIO---345
SA/DISPL RATIO---20.5
CAPSIZE SCREENING FACTOR---1.75
TANKS---30 gals, Fuel, 40 gals. Water
FRIENDSHIP
A 39' Friendship Sloop for wood construction
Brewer / Wallstrom Design #58
The Friendship sloop was developed in Maine as a commercial fishing boat in the late 1800s and, over the years, has become a favorite model for a Downeast Coastal cruising yacht. Indeed, many of the original Friendships were converted to yachts and a number are still sailing.
FRIENDSHIP is a slightly modified version of the old sloops, with changes to improve her performance without affecting her very traditional appearance.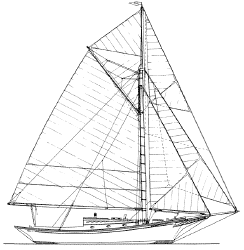 click drawing to see larger image
These include increased freeboard, outside ballast, a more efficient rudder and smoother fairing of the garboards. The rig is still very traditional in both appearance and set up and she fits a topmast, just like the earliest Friendships did.
Accommodations are simple in keeping with her type but there is generous stowage and a couple could cruise for weeks in comfort. The roomy cockpit is ideal for daysailing parties, of course and there is plenty of room to stretch out and snooze.
Construction is of edge glued strip planking on steam-bent or laminated frames, bronze fastened. Decks and cabin roof are marine plywood, FRP covered.
Auxiliary power is any small diesel in the 25-40 hp range and will move her along very nicely in the calms. Light air performance is excellent due to the very large sail area and her ability to set topsails for extra drive. She will be a beautiful picture with all her canvas flying as she snorts along with a bone in her teeth.
Those who still love the tradition of the sea and have admired the Friendship sloops of yore will find this design to be a fast and solidly built yacht that will be admired wherever she sails.
Study Plans: $90 US
Complete Plans: $995 US
Study plans contain sufficient drawings to price out materials or obtain a professional bid; the cost of study plans is credited if complete plans are later ordered. Complete plans include rights to build one boat, plus reasonable consultation during construction.
---
---
Brewer Yacht Designs
1825 Evergreen Drive
Agassiz, BC
Canada VOM 1A3
Phone 604-796-3732 Fax 604-796-3738
brewer@island.net