PACIFIC Specs

LOA---43' 6"
LWL---34' 8"
BEAM---13' 0"
DRAFT--- 6' 0"
BALLAST---8500 lbs.
SAIL AREA---954 sq. ft.
DISPLACEMENT---30500 lbs.
DISPL/LENGTH RATIO---327
SA/DISPL RATIO---15.64
PRISMATIC COEFF---.54
CAPSIZE SCREENING FACTOR---1.66
TANKS---180 gals Fuel, 145 gals Water
PACIFIC
A 43'6" Ketch for wood construction
Brewer / Wallstrom Design #55
PACIFIC was designed as a live-aboard auxiliary ketch suited to extended cruising in comfort and safety. Her accommodation offer berths for up to 7 persons in three separate cabins or she can be laid out with a 6 berth arrangement plus a focs'l workshop. The galley features a large refrigerator, 3 burner stove with oven and deep sink, plus there is a workable chart table, two heads with showers and generous stowage throughout.
Construction is of carvel planking (strip or conventional) on bent or laminated frames.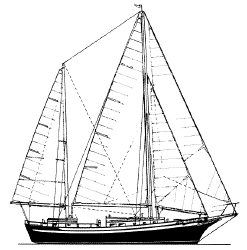 click drawing to see larger image
Decks may be fibreglass covered plywood or laid teak or pine. Spars are spruce and detailed plans of the mast hardware are included.
Generous tank capacity allows a large cruising radius and auxiliary power in the center engine room is a diesel of 35-70 hp, as preferred. Economical cruising speeds of up to 7 knots are easily achieved.
The hull form has a prismatic coefficient of .54 for good all round performance under sail and her generous sail area assures good performance thanks to her long waterline. The long keel also assures a steady helm and allows PACIFIC to be hauled easily at the small out-of-the-way yards frequented by cruising sailors.
A number of these yachts were built in Taiwan in wood, and later in fibreglass, and Burl Ives owned one of the boats for many years. The PACIFIC has been well proven with many long voyages and, if you are looking for a true blue water cruiser, you might give her your serious consideration.
Study Plans: $100 US
Complete Plans: $1395 US
Study plans contain sufficient drawings to price out materials or obtain a professional bid; the cost of study plans is credited if complete plans are later ordered. Complete plans include rights to build one boat, plus reasonable consultation during construction.
---
---
Brewer Yacht Designs
1825 Evergreen Drive
Agassiz, BC
Canada VOM 1A3
Phone 604-796-3732 Fax 604-796-3738
brewer@island.net