TREE OF LIFE Specs

LOA---69' 7"
LWL---58' 0"
BEAM---18' 11"
DRAFT---8' 6"
BALLAST---27,500 lbs.
SAIL AREA---2,585-3,894 sq. ft.
DISPLACEMENT---130,000 lbs.
DISPL/LENGTH RATIO---297
SA/DISPL RATIO---16.1 (4 lowers)
PRISMATIC COEFF---.544
CAPSIZE SCREENING FACTOR---1.5
TANKS---580 gals fuel, 720 gals water
ENGINE---Caterpillar 3208 diesel
TREE OF LIFE
A 70'' Auxiliary Schooner for wood construction
Brewer Design #213
In the early 1990s, the TREE OF LIFE was named One of the 100 Finest yachts in America by Sail magazine. She was designed in 1989 for a Virginia owner who planned extensive world cruising and wanted a husky yacht that resembled the Baltic trading schooners. TREE was beautifully and strongly built by Covey Island Boat Works in Nova Scotia, Canada.
Since her launching she has won schooner races in Nova Scotia and crossed the Atlantic to Ireland where she won races there. More recently, in April of this year, the TREE won the Antigua Race Week with three 1sts.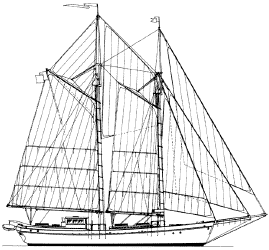 click drawing to see larger image
A letter from her builder, claiming speeds in excess of 12 knots under sail, is adequate testimony to her performance while a world circumnavigation attests to her seaworthiness and ability.
The TREE's rig is very traditional, with its fidded bowsprit, reefing topmasts and deadeyes. She spreads 3,894 sq ft of canvas with all sail set, giving her a sail area/displacement ratio of 24; this is more than adequate to keep her moving nicely in even the lightest of breezes. There are enough lines to handle to keep the crew busy and she is a beautiful sight surging along on a broad reach.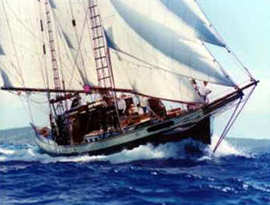 The accommodations offer berths for 10 in four cabins forward, plus a navigator's berth in the wheelhouse and a double berth owner's cabin aft. A passageway below the nav berth connects the owner's cabin to the saloon and gives good access to the engine room. Other features include the library/ office with upper/lower berths, an 11 foot long settee in the spacious saloon, and a very large galley. The wheel house offers protection to the helmsman and navigator in inclement weather and there is, of course, an outside wheel forward of the pilot house giving an unobstructed view of the sails.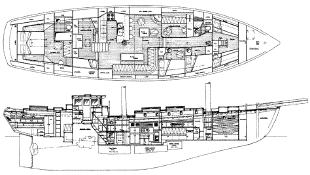 click drawing to see larger image
TREE is built of 2" fir planking on laminated fir frames, 14" c.-c. Decks are laid, oiled fir and the construction is designed to be extremely strong and durable. Epoxy resins are used for laminating and coating the hull to avoid rot problems and to reduce the chance of teredo damage.
She is an unusual yacht by modern standards but there is no doubt that TREE is both practical and handsome. The TREE absolutely stands out in any company!
Study Plans: $295 US
Complete Plans: $5995 US
Study plans contain sufficient drawings to price out materials or obtain a professional bid; the cost of study plans is credited if complete plans are later ordered. Complete plans include rights to build one boat, plus reasonable consultation during construction.
---
---
Brewer Yacht Designs
1825 Evergreen Drive
Agassiz, BC
Canada VOM 1A3
Phone 604-796-3732 Fax 604-796-3738
brewer@island.net