ORCA Specs

LOA---45' 0"
LWL---38' 0"
BEAM---13' 10"
DRAFT---5' 11"
BALLAST---12000 lbs.
SAIL AREA---1153 sq. ft.
DISPLACEMENT---39000 lbs.
DISPL/LENGTH RATIO---317
SA/DISPL RATIO---16.04
PRISMATIC COEFF---.554
CAPSIZE SCREENING FACTOR---1.61
TANKS---180 gals. Fuel, 160 gals. Water
ORCA
A 45' Pilothouse Cutter
Brewer Design #214
ORCA was a custom design for an East Coast yachtsman who planned extensive voyages. He has now completed a 10 year circumnavigation and was very pleased with her performance. The original was designed for steel with aluminum decks and deckhouse which provides a good combination of maximum strength with reduced weight high in the boat. However plans are also available for an all-aluminum version which will reduce displacement by several thousand pounds.
The hull form is our usual large radius bilge type which closely replicates a true round bilge hull but is easier to form in metal.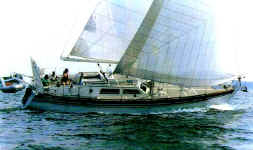 click photo to see larger image
ORCA has a moderate fin and a skeg hung rudder for reduced wetted area and good directional stability. The propeller is well protected from logs and pot warps and the shaft is strongly enclosed to eliminate the problems of lifting her with slings.
The interior arrangement provides 2 cabin privacy for the owner and guests.
click drawing to see larger image
It features a large pilot house/saloon with a U shaped settee over 9-1/2 feet long for comfortable relaxing and entertaining. The spacious galley and roomy head with separate stall shower assure convenience and comfort, and there is room for a washer/dryer under the berth in the forward cabin.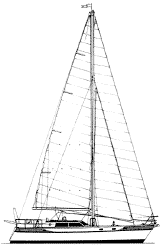 click drawing to see larger image
Although she is designed as a long range cruiser, the large cockpit is very comfortable for daysailing parties as well, making ORCA a very versatile yacht indeed.
The engine room is below the pilot house sole so there is good access to the husky diesel, auxiliary machinery and batteries. This simplifies maintenance problems and thus helps to ensure reliability.
ORCA's cutter rig spreads good sail area and she has proven to be a fine all around performer, with excellent light air ghosting ability. The tall mast is well supported with double spreaders, while the runners can be set up in heavy weather to tension the forestay and reduce mast panting. All in all, ORCA is a fine example of a modern pilot house auxiliary that is equally at home for coastal cruising or blue water voyaging.
Study Plans: $100 US
Complete Plans: $1795 US
Study plans contain sufficient drawings to price out materials or obtain a professional bid; the cost of study plans is credited if complete plans are later ordered. Complete plans include rights to build one boat, plus reasonable consultation during construction.
---
---
Brewer Yacht Designs
1825 Evergreen Drive
Agassiz, BC
Canada VOM 1A3
Phone 604-796-3732 Fax 604-796-3738