MURRAY 33 Specs

LOA---33' 0"
LWL---26' 9"
BEAM---10' 11"
DRAFT---4' 11"
BALLAST---5000 lbs.
SAIL AREA---535 sq. ft.
DISPLACEMENT---13130 lbs.
DISPL/LENGTH RATIO---306
SA/DISPL RATIO---15.4
PRISMATIC COEFF---.545
CAPSIZE SCREENING FACTOR---1.86
TANKS---30 gals. Fuel, 50-60 gals. Water
MURRAY 33
A 33' Auxiliary Sloop or Cutter for steel construction
Brewer Design #122
The aim of this design was to produce a roomy, conventional auxiliary that will combine the strength of steel with good performance characteristics in a simple-to-build chine hull. Longitudinal stringers on widely spaced angle frames assure a fair hull and the welded steel construction assures great strength. The MURRAY's double chine hull form simplifies construction yet closely resembles a round bilge yacht in general shape and hydrostatics.
Her moderately long fin keel provides excellent lateral plane with minimum wetted surface for light air performance.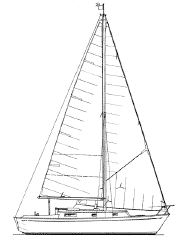 click drawing to see larger image
At the same time, her large skeg/rudder assures good directional stability and control at all times.
The accommodations are flexible and can be modified to suit individual owners, but the standard layout provides five fixed berths, a complete and very workable galley, good navigation facilities, an enclosed head and generous stowage throughout.
Many of these boats have been built by both professional and amateur builders and we have had good reports of their performance. Obviously the MURRAY is not a racing yacht as she was designed for blue water voyaging. Still, she will move out very nicely indeed in average conditions while her generous beam gives her the power to stand up to a stiff breeze. Her masthead rig is easily handled by a couple and can be readily single handed if desired.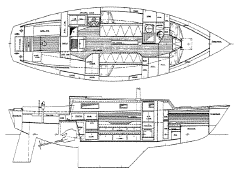 click drawing to see larger image
The skipper looking for a proven offshore cruiser, one that is economical to build and maintain, and one that will cross oceans in safety and comfort should consider the MURRAY 33.
Study Plans: $50 US
Complete Plans: $495 US
Study plans contain sufficient drawings to price out materials or obtain a professional bid; the cost of study plans is credited if complete plans are later ordered. Complete plans include rights to build one boat, plus reasonable consultation during construction.
---
---
Brewer Yacht Designs
1825 Evergreen Drive
Agassiz, BC
Canada VOM 1A3
Phone 604-796-3732 Fax 604-796-3738
brewer@island.net