HUROMIC 35 Specs

LOA---35'8"
LWL---28'4"
BEAM---11'6"
DRAFT---4'9"
BALLAST---6200 lbs.
SAIL AREA---649 sq. ft.
DISPLACEMENT---17000 lbs.
DISPL/LENGTH RATIO---333.8
SA/DISPL RATIO---15.7
PRISMATIC COEFF---.55
CAPSIZE SCREENING FACTOR---1.79
TANKS---35 gals. Fuel, 75 gals. Water
HUROMIC 35
A 35' Sloop for steel construction
Brewer / Wallstrom Design #115
The HUROMIC 35 is the design in which we pioneered the, now popular, radius bilge method of forming a metal hull. This type of construction combines the aesthetics and reduced resistance of a round bilge hull with the simplicity of lofting of a chine hull. It is well within the ability of a small shop and, indeed, many radius bilge hulls have been amateur built in sizes to 60 feet!
Her arrangement is very straightforward and traditional, and well proven on many long voyages.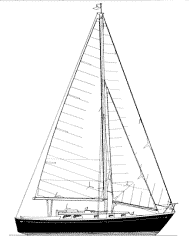 click drawing to see larger image
Permanent berths for 4 plus settee berths for 2 additional crew are in 2 separate cabins. Aft, she features a roomy nav area to starboard and a large U shaped galley to port. The spacious head has the usual facilities and is amply large for showering.
While many will call her a cutter, we think of the HUROMIC 35 as a double headsail sloop. In any case she has ample sail to cruise at good speeds and has achieved 7 knots and better in a breeze. The double headsail rig simplifies handling and can be reefed down to a snug, all inboard rig in a blow. However, for those who prefer a vessel with traditional character, the plans also offer a clipper bow ketch version with bowsprit and 700 sq. ft. of sail.
aluminum sistership
click photos to see larger image
Auxiliary power is by a small diesel of 22-30 hp and will drive her at 6.5 knots with a wide cruising range.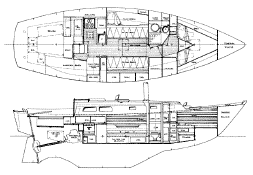 click drawing to see larger image
In 1983 one of these yachts completed a successful global circumnavigation, rounding both Cape Horn and Cape of Good Hope, a solid testament to her seaworthiness. She was skippered by Professor Marvin Creamer of New Jersey and navigated without the use of sextant or electronic instruments. Ed Arnold, in his aluminum 35, rounded Cape Horn on his voyage from the Azores to Alaska, and rounded it again on his successful Sitka-Sitka circumnavigation
Plans are also available for aluminum construction if preferred.
Study plans contain sufficient drawings to price out materials or obtain a professional bid; the cost of study plans is credited if complete plans are later ordered. Complete plans include rights to build one boat, plus reasonable consultation during construction.


---
---
Brewer Yacht Designs
1825 Evergreen Drive
Agassiz, BC
Canada VOM 1A3
Phone 604-796-3732 Fax 604-796-3738
brewer@island.net