CORTEN Specs

LOA---40' 3" or 42' 9"
LWL---33' 4"
BEAM---12' 4"
DRAFT---5' 6"
BALLAST---8500 lbs.
SAIL AREA---1000 sq. ft.
DISPLACEMENT---29600 lbs.
DISPL/LENGTH RATIO---357
SA/DISPL RATIO---16.70
PRISMATIC COEFF---.55
CAPSIZE SCREENING FACTOR---1.59
TANKS---120 gals. Fuel, 160 gals. Water
CORTEN
A 40' or 43' Auxiliary Cruiser for steel construction
Brewer Design #104
The original CORTEN was a 40 foot, double chine, outboard rudder, steel gaff rigged schooner. The first boat completed to the design, built in the '70s, is still afloat and still in the family. CORTEN has proven to be a very popular design over the years and, at the request of different clients, we have developed marconi schooner, cutter and ketch rigs, a radius bilge hull, a fin keel/skeg rudder lateral plane and counter stern versions. The builder can truly tailor this design to suit his personal preferences. There is even a pilot house version with inside controls.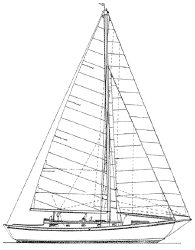 Corten cutter
click drawing to see larger image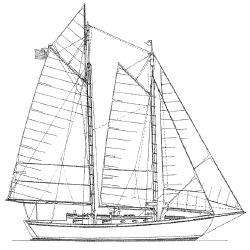 Corten schooner
click drawing to see larger image
CORTEN has proved that she can move along with the best of them with any of the rigs. Even the schooners have enough "drive" to surprise many supposedly fast boats in light airs once they set their fisherman staysail and jumbo jib.
The layout accommodates up to 8 in 3 separate cabins but that is crowding it. However a family or 2 couples can live aboard for long periods in comfort.
The diesel stove, large nav area and the spacious head are conveniences that add greatly to cruising pleasure.
Many of these vessels have been built by both amateur and professional builders. They are proven able and seaworthy, have crossed the Pacific and made many blue water voyages without problem. There is no doubt that a CORTEN will attract favourable attention and a great deal of interest wherever she may poke her bowsprit.
Study Plans: $95 US
Complete Plans: $995 US
Study plans contain sufficient drawings to price out materials or obtain a professional bid; the cost of study plans is credited if complete plans are later ordered. Complete plans include rights to build one boat, plus reasonable consultation during construction.
---
---
Brewer Yacht Designs
1825 Evergreen Drive
Agassiz, BC
Canada VOM 1A3
Phone 604-796-3732 Fax 604-796-3738
brewer@island.net