BULL DOG Specs

LOA---30' 0"
LWL---26' 0"
BEAM---10' 5"
DRAFT---4' 11"
BALLAST---5000 lbs.
SAIL AREA---528 sq. ft.
DISPLACEMENT---12000 lbs.
DISPL/LENGTH RATIO---305
SA/DISPL RATIO---
PRISMATIC COEFF---.552
CAPSIZE SCREENING FACTOR---1.82
TANKS---40 gals. Fuel, 75-100 gals. Water
BULL DOG
A 30' Auxiliary Cutter
Brewer Design #132
BULL DOG is a husky little cutter and was specifically designed for offshore and long range cruising by a couple with occasional guests. It is hard to imagine a thirty footer more suited for blue water sailing and ocean voyages.
A few points to note are the liferaft locker under the cockpit, 3" cockpit scuppers, permanent boom gallows, mast in tabernacle, anchor windlass and chain locker, work bench forward, etc.
For coastal cruising, owners might prefer a vee berth forward but the folding double makes a fine harbour berth for a couple and the work bench will prove very useful at times.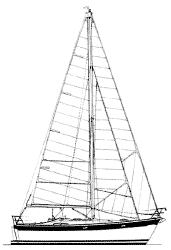 click drawing to see larger image
Note the two good sea berths, (pilot berth and quarter berth), the roomy galley, and the very generous stowage throughout in many lockers and drawers.
Performance is assured by the generous sail area in a tall, efficient rig. The single spreader mast is strongly stayed with inner forestay and features intermediate shrouds that can be set up as runners in heavy weather to reduce mast panting. BULLDOG has sufficient draft and lateral area to keep leeway moderate and a 42% ballast ratio to keep her standing up in a stiff breeze so she will perform well in winds from zephyrs to gales.
The hull form is our popular radius bilge but plans for a simpler double chine version are available as well. The vessel can be built of aluminum or steel, as preferred, and the lines for the steel hull are designed to slightly greater displacement to accept the heavier weight of material.
All in all, BULL DOG is a fine little yacht for her intended purpose. She provides that desirable combination of comfort, performance and purposeful appearance that is rarely seen in an ocean going cruiser.
Study Plans: $50 US
Complete Plans: $495 US
Study plans contain sufficient drawings to price out materials or obtain a professional bid; the cost of study plans is credited if complete plans are later ordered. Complete plans include rights to build one boat, plus reasonable consultation during construction.
---
---
Brewer Yacht Designs
1825 Evergreen Drive
Agassiz, BC
Canada VOM 1A3
Phone 604-796-3732 Fax 604-796-3738
brewer@island.net